Blackburn wins Tennessee Senate race, keeping seat for GOP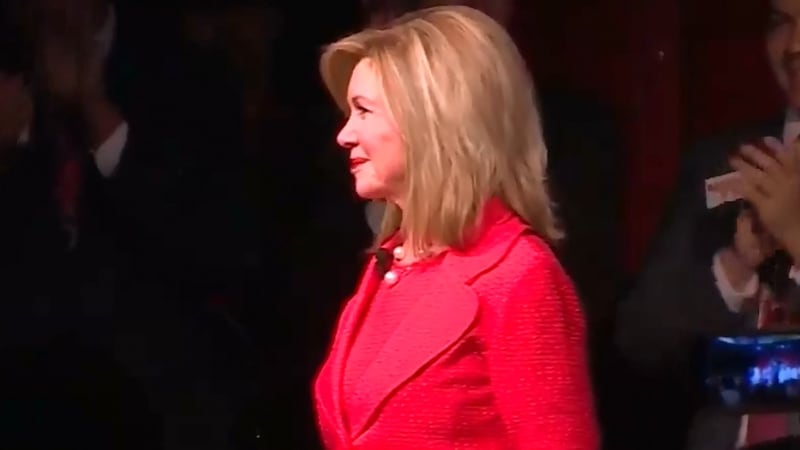 Published: Oct. 25, 2018 at 5:31 PM EDT
Republican U.S. Rep. Marsha Blackburn won a grueling, expensive contest Tuesday to become the first female U.S. senator from Tennessee, keeping a key midterm seat under GOP control.
The congresswoman defeated Democratic former Gov. Phil Bredesen by closely aligning her bid with President Donald Trump, who drummed up support for her during three visits to the state that he won by 26 percentage points, including a rally alongside Vice President Mike Pence in Chattanooga two days before the election.
"Now, you don't have to worry if you're going to call me congressman, or congresswoman, or congress lady. Now, senator will do," she said in her victory speech. Blackburn calls herself congressman, not congresswoman.
Her win represents a rightward shift from the GOP senator she will replace, Bob Corker, who fell in line with Tennessee's historical preference for more-centrist senators and at times was a vocal critic of Trump.
Blackburn worked to undermine Bredesen's popularity and reputation as an independent thinker by tying him to national Democrats at every turn. She rarely diverged from Trump, and touted his proposed U.S.-Mexico border wall and tax cuts while blasting Bredesen's opposition to both. She backed Brett Kavanaugh for the Supreme Court the same day Trump nominated him, and criticized Bredesen for taking so long to say he would have supported Kavanaugh's confirmation as well.
Blackburn thanked Trump and Pence in her victory speech and said she will be a leader who will "work with the president and keep this nation on the path to prosperity that we are on today." She said she will work to confirm more constitutional judges, decrease taxes, limit regulation, oppose abortion, protect gun rights, get federal spending under control and build the border wall.
First elected to the House in 2002, Blackburn aligned with the tea party movement and regularly appeared on Fox News. She opened her campaign by dubbing herself a "hardcore, card-carrying Tennessee conservative." Before that, she made a name for herself as a state lawmaker who helped lead the revolt against a proposed Tennessee income tax in the early 2000s.
The $85 million-plus race set a state record in spending by candidates and outside groups, gaining national interest because of its potential implications for the GOP's slim majority in the Senate.
Pop superstar Taylor Swift even broke her political silence for the Tennessee contest when she went on Instagram to endorse Bredesen and encourage people to vote.
"I just really want those young people to know how important it is to the future of our country that you not get discouraged, that you stay engaged and you never, ever, ever give up," Bredesen said Tuesday night.
Blackburn took aim at Bredesen for donating to Hillary Clinton and Barack Obama and receiving campaign checks from high-profile Democrats. Although Bredesen largely kept his distance from other well-known Democrats, Blackburn had no qualms bringing Trump and fellow national Republicans to Tennessee.
She welcomed in Pence three times. The president's son Eric Trump, and U.S. Sens. Marco Rubio of Florida, Lindsey Graham of South Carolina, Joni Ernst of Iowa, Tom Cotton of Arkansas and Thom Tillis of North Carolina also came along for separate campaign events.
Voters like Cody Wheeler in the Nashville suburbs were skeptical about Bredesen's promise to independents and Republicans that he wouldn't toe the party line in Washington.
"I had a hard time believing his campaign," said Wheeler, a 30-year-old Blackburn voter from Williamson County. "With Marsha, you knew what you were going to get."
Corker, the outgoing senator, had backed Blackburn but refused to campaign against Bredesen, whom he considers a friend. Corker briefly heard out pleas from some peers last winter that he reconsider retirement, prompting a Blackburn spokeswoman to say anyone who thinks she can't win the general election is a "plain sexist pig."
Afterward though, she managed to consolidate support across the GOP's various political circles, including from former U.S. Rep. Stephen Fincher, who briefly opposed her in the primary and called for Corker to run again upon dropping out of the race.
On Tuesday night, she was happy to claim a piece of Tennessee history for women in the Senate.
"And just imagine this: It is a conservative woman to boot," she said to loud applause.
Senator Lamar Alexander offered Blackburn congratulations on Twitter.
CNN took to Twitter to discuss the race saying, "Tennessee was a critical part of what the Democrats needed to put in play to have a real shot at the majority."
Blackburn went on stage to give her acceptance speech soon after the announcement.
Below are responses from projected winner Marsha Blackburn when asked what her goals will be.
MARSHA BLACKBURN
Facebook:
Marsha Blackburn
Twitter:
@VoteMarsha
Website:
www.marshablackburn.com
What do you foresee as the biggest problem for your constituency that you plan to tackle in Washington?
The lack of productivity from the Senate is one of the greatest challenges we face. They cannot seem to get problem solving legislation to the President's desk. Tennesseans sent President Trump to Washington to drain the swamp, put strict constitutionalists on the federal bench and Supreme Court, protect our nation's security, curb our out of control federal spending and build the wall, but in order to do that, he needs working majorities in the House and Senate.
What will be your main focus during the 2019 legislative session?
When it comes to my political philosophy, I am guided by what I call The Big Five: faith, family, freedom, hope, and opportunity. Tennesseans want their next Senator to be a problem solver with a history of getting things done with a record of accomplishment. That's how I serve the people I represent and how I will continue to serve Tennesseans in the Senate.
What's one thing that your constituency may not know about you that you want them to remember when they go to the polls in November?
As your next Senator, I will fight to stop illegal immigration, maintain President Trump's tax cuts, confirm constitutionalist judges who won't legislate from the bench, cut wasteful spending, keep our promises to those who have defended our freedoms, and secure our borders.
What do you feel is your biggest accomplishment that has made a difference in your community?
One of the things I found out early in my political career is that I'm pretty good at affecting change. In fact, I've been a change agent all my life. When our state needed someone to step up and lead the fight against the state income tax, I stepped up. When I was first elected to Congress, I made good on my promise to restore your ability to deduct your state and local sales tax from your federal income tax filing. When we needed someone to investigate Planned Parenthood and third-party baby part sellers, I led that investigation. I have a solid record of loyalty, commitment, and respect for differing opinions that allows robust respectful political debate. That is the type of energy that I am going to take to the U.S. Senate. Legislators are to be collaborative, focused problem solvers.
John Rich now taking the stage at the Blackburn watch party. pic.twitter.com/nQv27R11vX

— Kelsey Leyrer (@WVLTKelsey) November 7, 2018