Scamming the Scammers: What to watch for online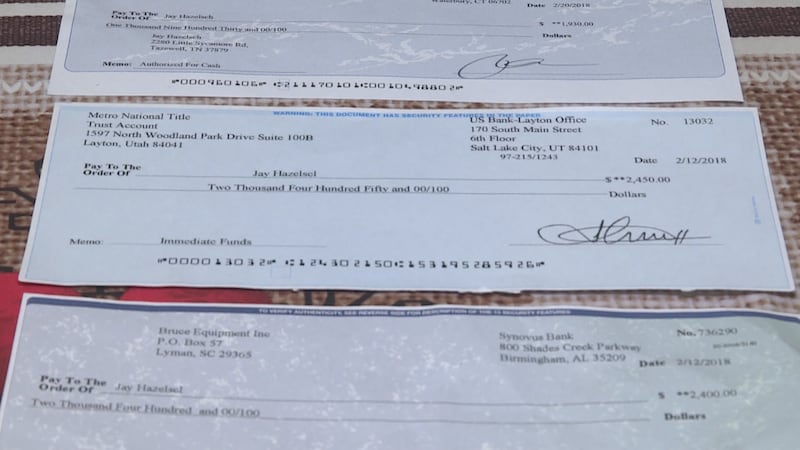 Published: Feb. 28, 2018 at 12:21 AM EST
Scamming the scammers: A Claiborne County man played the cons, so others didn't have to, and there was the same red flag found in all of the scams.
Jay Heselschwerdt is retired, but he has spent the past few months turning in Craigslist scams, "because it's fun," he joked. But more importantly he wanted to get to them before they got to you.
"I figure there's enough scammers out there scamming good people out of their hard-earned cash," Heselschwerdt told Local 8 News reporter Robert Grant.
He sold puppies on Craigslist and saw dozens of similar scams, all with the same red flag: they wouldn't talk to him in person.
One scammer was "claiming that he was [a veteran] and that he couldn't be there to pick up the item."
That was a story that struck a chord with Heselschwerdt, a retired veteran himself.
"If you took the time out of your life to serve your military and defend our freedoms, that's taking away glory from all of us," he said.
Most checks quickly came in the mail. "If you deposit it through an ATM, it gets side stepped and shows you have funds in your bank account, so now you're thinking 'great i got a $2,500 check.'"
But he said usually they're fake.
"And now I owe the bank money plus a bounced check fee."
Heselschwerdt recommended staying away from deals that required movers to deliver the item you are selling.
He added, most scams would display a different address on the postage stamp compared to the check.
When he gets a fake check, Heselschwerdt said he turned them in to the bank.
Craigslist does have a post on their website suggesting anyone sealing a deal should do so face-to-face to help avoid a scam.