Storm: 2 dead, 44 hurt in bus crash on icy road near Memphis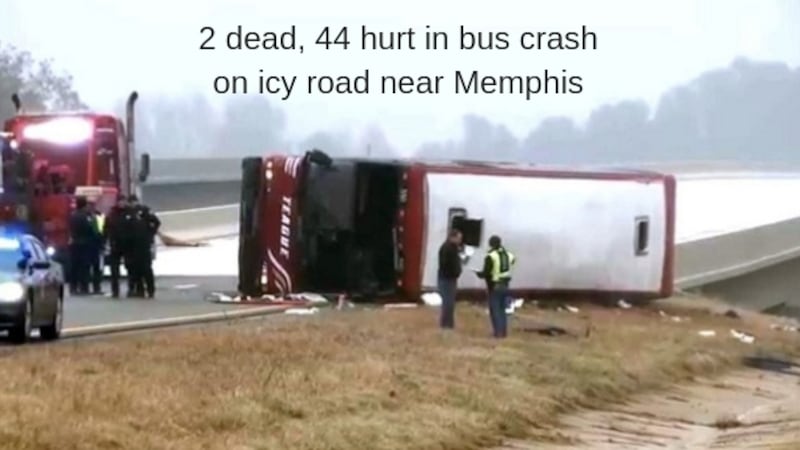 Published: Nov. 15, 2018 at 8:14 AM EST
An Alabama tour bus bound for a Mississippi casino overturned Wednesday on an icy highway, leaving two people dead and 44 others aboard with injuries, authorities said, as a pre-winter storm blasted parts of the South and lower Midwest.
The National Weather Service says snow and ice fell during the day across parts of Mississippi, Arkansas, Tennessee, Missouri, Kentucky, Indiana and Illinois. Snow and ice are predicted Thursday and Friday for areas ranging from Ohio and the Appalachian Mountains through Washington, D.C., New York and New England from the storm barreling toward the Northeast.
Witnesses told Mississippi investigators that the bus driver lost control after crossing an icy overpass and the bus rolled over on its driver's side, coming to rest in median of Interstate 269 in Byhalia around 12:35 p.m., said Mississippi Highway Patrol spokesman Capt. Johnny Poulos. That Mississippi town is about 35 miles (55 kilometers) southeast of downtown Memphis, Tennessee.
Killed were 70-year-old Betty Russell and 61-year-old Cynthia Hardin, both of Huntsville, Alabama, said DeSoto County Coroner Joshua Pounders. The injured were taken to Memphis-area hospitals, with at least three listed in serious condition Wednesday evening. Officials said the group was bound from Huntsville, Alabama, to gamble at a casino in Mississippi's Tunica County, about 40 miles (65 kilometers) to the west.
The red tour bus with white and gray stripes was later towed from the crash site, its windows mostly missing and a smell of gasoline lingering in the air. Large scratches and other damage were visible on the driver's side.
Poulos said investigators hadn't yet concluded how fast the bus was traveling. He said because the road was icy, investigators have no skid marks to evaluate as part of their investigation.
"We can't really tell what the vehicle did," said Poulos, adding more findings could be available Thursday.
The bus was operated by Teague VIP Express, based in Anniston, Alabama. The company posted a message on its Facebook page that said: "Our hearts and prayers go out to victims of this tragedy. Please keep everyone involved and families in your prayers."
The company has only three buses and three drivers, according to licensing information from the Federal Motor Carrier Safety Administration. The agency gives Teague a satisfactory rating and lists no crashes in the last two years.
However, agency records show Teague had three buses fail random unannounced inspections in February 2017: One bus was ordered off the road because of worn, welded or missing steering system components and a second bus was ordered off the road because of steering problems and defective or missing axle parts. A third bus was ordered off the road because of a cracked or broken wheel or rim, records show.
A Teague driver was ordered out of service in September 2017 after an Alabama traffic stop found the driver didn't have the required duty status records, according to the records.
There was no indication Wednesday's crash was related to the violations.
Federal Motor Carrier Safety Administration spokesman Willam DeBruyne declined to comment on Teague VIP's safety record. He said a bus is only ordered out of service because of an "imminent hazard."
"It's so egregious that the vehicle cannot be allowed to operate," he said.
The coroner declined to describe the causes of the deaths and no autopsies were planned.
In Washington, National Transportation Safety Board spokesman Keith Holloway said the federal agency hasn't determined yet whether it will investigate Wednesday's crash.
It was the second charter bus excursion to a Mississippi casino town to end in fatalities in two years. A bus carrying Texas senior citizens to a Gulf Coast casino in Biloxi, Mississippi, got stuck on train tracks and was slammed by a freight train in March 2017. The crash resulted in four deaths and 38 injuries. The NTSB found that the probable cause of the crash was the failure of a railroad and the city to work together to improve the safety of a sharply humped railroad crossing where it was well known that vehicles occasionally got stuck.
Around the upper South, meanwhile, the storm spread scattered sleet and light snow. Flash flood watches were posted for parts of Georgia, South Carolina, North Carolina and Virginia. Freeze warnings were posted as far south as the Gulf Coast. And in Virginia, NASA said, the planned launch early Thursday of an unmanned cargo rocket to the International Space Station had to be rescheduled by one day because of the weather. The unmanned Cygnus cargo craft is now to lift off early Friday from Wallops Island on the Eastern Shore carrying with supplies and research materials for the astronauts aloft.