Woman stuck in bathtub for five days is rescued by postal worker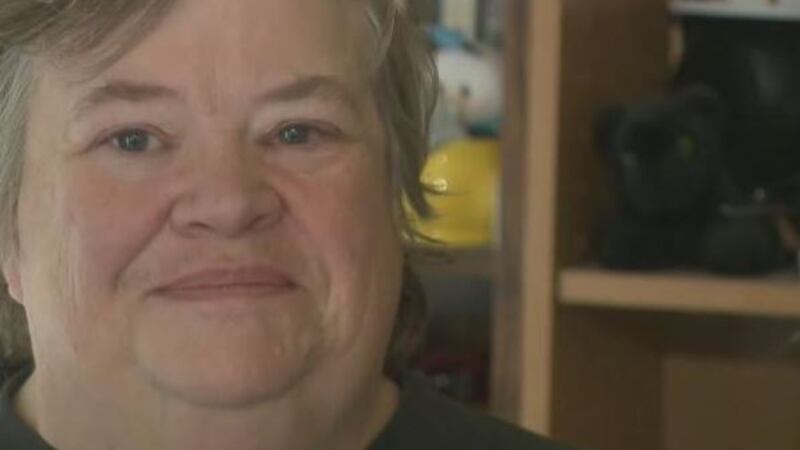 Published: Oct. 30, 2018 at 9:13 PM EDT
A Michigan woman was rescued by a postal worker after she was stuck in a bathtub for five days.
Alison Gibson sat down in the tub on Oct. 15 and couldn't get back up because her handrail was out of reach.
"When I get down there, I couldn't get back out," Gibson said. "Because (the handrail) was behind me, I couldn't get myself turned around to get a hold of it, that I usually use to get out."
She left her cell phone in another room and she lives alone, leaving her no immediate lifeline.
"I heard it ring a couple of times but couldn't get to it," Gibson said.
So she spent Monday night, Tuesday, Wednesday and Thursday alone waiting for a rescue. Gibson didn't have any food to eat during the ordeal and subsisted on drinking bath water.
"I basically just sat there," she said. "When I got cold, I ran the hot water. When I get thirsty, I took a drink out of the cold water. That's about it, try to find a way to get out."
But she had no way out.
Finally, around 11 a.m. Friday a postal worker became concerned, telling Alison's neighbors that her mail was starting to pile up. The neighbors went to check on her, calling from outside the back of the home.
"Someone was outside my window, yelling, so I yelled back," Gibson said.
Neighbors called police.
Chesaning Police Chief Stacey Wilburn and another officer climbed through a window to get into the house. She opened the closed bathroom door and found Gibson in relatively good shape.
"Scary, because, I mean, we turned the light on, which means her light was off at night," Wilburn said.
There were signs that Gibson's ordeal had dragged on for five days, including damage to the inside of the bathroom.
"The walls had bubbled because of the moisture in there," Wilburn said. "The back of the door was full of mold. The ceiling was dripping because of all of the moisture, but that was the only way she was able to stay warm."
Gibson spent four days in a local hospital, but she was released after doctors found no major health issues.
Looking back 10 days later, she's thankful the postal worker and her neighbors became concerned for her well-being. She plans on having a walk-in tub installed soon so she won't have to endure a similar ordeal.
"I don't want to do it again, that's for sure," Gibson said.