Love Kitchen prepares thousands of meals for Thanksgiving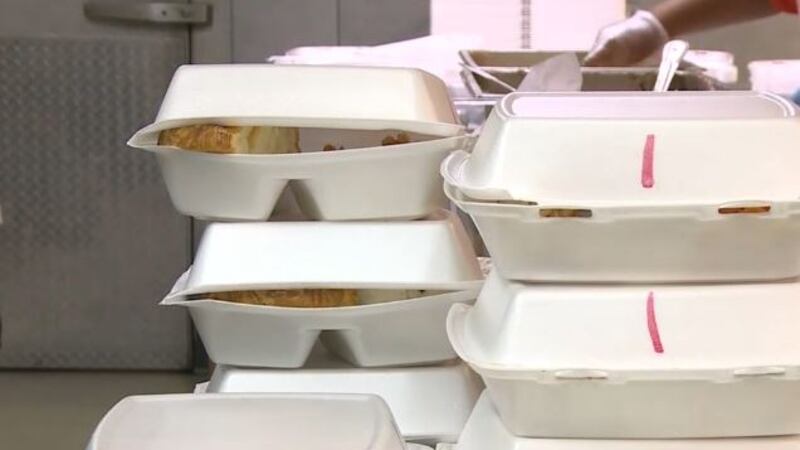 Published: Nov. 19, 2018 at 6:14 PM EST
The Love Kitchen is always hard at work, but volunteers work even harder this time of year, hoping to give everyone a Thanksgiving meal.
Whether served at the kitchen or delivered to homes, volunteers know it will make a difference in people's lives.
Twin sisters Helen and Ellen Ashe founded the Love Kitchen in 1986, and their tradition and spirit of serving the less fortunate in Knoxville continues on today.
Patrick Riggins, the Executive Director at the Love Kitchen, said they plan to deliver about 1,000 meals on Wednesday for Thanksgiving, and they plan to serve about 150 people at the Love Kitchen location on Thursday.
The Love Kitchen serves people who can't prepare meals for themselves or people who are unable to get out of their homes. Those who are able to get out and about are welcome to attend the meal at the Love Kitchen.
"Everybody that wants to come in can eat with us. Anyone is always welcome. That's how the sisters set up the Love Kitchen. If you're hungry, we'll feed you," Riggins said. "We're here for you, and we're here to feed you, and somebody cares."
The Love Kitchen operates all year long serving thousands of meals, but they stay extra busy during the holiday season.
"We're doing approximately 2,800 to 2,900 meals a week right now," Riggins said.
Elroy Wilson volunteers his time regularly. He cooks, cleans and helps out wherever he is needed.
"I actually started volunteering a while ago. I had a car wreck about two years ago, and found out I had a brain tumor, so I couldn't work anymore, so I'm limited in what I can do, so that's why I figured I could do something is by volunteering and helping down here," Wilson said.
He said helping others is how he likes to spend his time.
"You got to not just pay it back, pay it forward, but you got to help people out because what people don't realize is that there's always someone less fortunate than you are," Wilson said.
College students from around Knoxville also volunteer their time to help prepare these meals.
Tierra, a student volunteer, said some people are alone without any family or friends.
"It's good to give back," she said.
"Not everyone has a family to be involved with, so you need that home body, that family connection, with the community," Gracie Borden, a student volunteer, said.
"Not only do we nourish people physically, but we nourish them spiritually as well, and that's what a lot of people need during Thanksgiving is just someone to come in and just visit with and talk to," Riggins said.
Anyone is welcome to enjoy a meal at the Love Kitchen on Thanksgiving Thursday at 2:00 p.m.