Veteran launches lawn care charity to help neighbors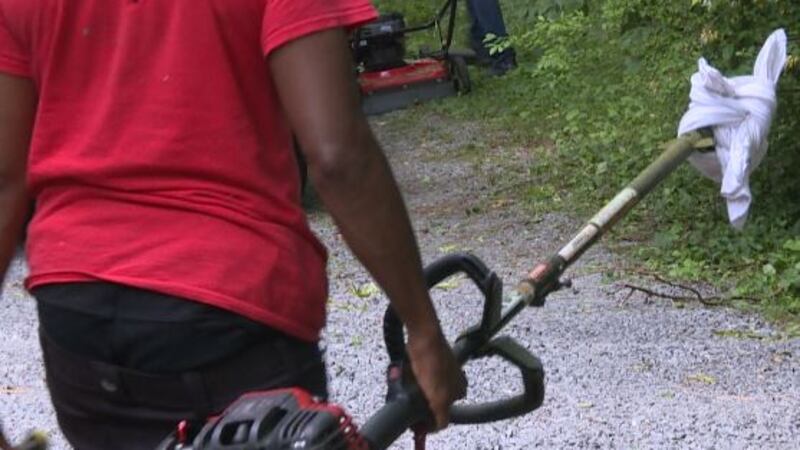 Published: May. 15, 2019 at 5:45 PM EDT
When Constance Every returned from active duty in Afghanistan, the Post Traumatic Stress Disorder had taken its toll. Yet to her, it didn't seem like enough to simply accept the check she'd earned so it could help her day to day. She decided to give back of her time and service to neighbors.
Every started a clothing drive and started asking what else people in East Knoxville might need. She made the most notable impact when she offered to mow the lawn for an elderly neighbor. Then another neighbor, and another. Every started the group called
"We ended up doing what we call the emergency lawn care service, where if you got a ticket from the city saying your grass needed to be cut, we came out and cut those yards," said Every.
"It's priceless. You just can't imagine," said Angela Laberge about getting regular help mowing her lawn. Laberge said Every helped her with several things when a fire destroyed nearly everything she had at a previous rental home. "She helped with some clothes and jewelry and makeup and some furnishings too. And then she continued to keep up the yard pretty much all summer."
"The concept is that we wear our hearts on our sleeves. So Sleeves 4 Needs is an extension of my heart on my sleeves to those who are in need," explained Every.
Every said Sleeves 4 Needs helped 178 people or families with their lawns during its first year of existence. Every pitched the group's concept to a gathering of community leaders called
in 2019, winning attendees over with a $1,000 grant to continue its work. Every started with a new lawnmower and weed eater, hoping to use some of the remaining money toward an industrial lawnmower as well.
Adam Fritts chaired the April gathering of Knoxville Soup, where Every's pitch won over attendees. "Their proposal really concentrated on an area where we felt like it was going to be making an impact on a wide swath of our community. We are all about those kinds of projects.
Wanting to make sure we can help those folks out."
Copyright 2019 WVLT. All rights reserved.